Global settings contain the various options which control the most important Magic DOSBox functions. They are organized in the following categories:
Game Collection
File browser
Directories
SD-Card and storages
Language
Other
Game Collection
Game collection is the first screen you see when you start Magic DOSBox. You can add game profiles here.
Settings :
 Title – Text for upper collection frame
Item size – Size of profile item in collection. You can pick from three sizes.
Back to collection when quits – This flag controls returning to the Collection screen when you exit Magic DOSBox in various scenarios.
File browser
Magic DOSBox has a built-in file browser for picking files and directories. You can indicate the file view size here.
Directories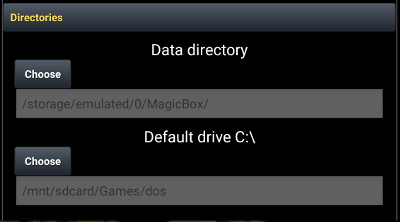 Here is where you set  important directories in Magic DOSBox.
Data directory – All settings are stored here. They will survive if Magic DOSBox gets uninstalled. This directory is set during the initial  installation to use the first accessible storage directory with full (read-write) access.
Default drive C:\ – This is the default path to the folder which will be mounted as Drive C:\. This value will be copied to every newly added game profile. In case you're curious,  the "C" drive is the default MS-DOS hard drive directory — just like in Windows today.
SD-Card and Storage
Your games have to be stored on a "disk" (aka file path)  of your device and Magic DOSBox must be made aware where this is. Google does not have an exact API that detects all of your storage devices, but fortunately Magic DOSBox uses an automatic routine which can scan your device and find your internal and external storage directories. This section has two main functions:
 Show detected storage – Pushing this button show you all storage directories which were detected by the automatic scan and you can pick with to set with the manual settings below.
Manual storage setup – If the automatic scan fails to find your storage or sdcard then you can still add it here manually. Please report the missing path to our email address and help us improve Magic DOSBox.
Language
Version 17 introduced a multi-language UI. Supported languages are :
English – default language
Slovak
German
French
Russian